Books, etc.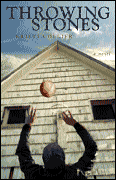 Andy Soaring is the best basketball player in town and everybody knows it. He aims to take his high school basketball team to the state tournament, and nothing is going to get in his way.

"Both historical fiction and sports readers will enjoy Andy's credible first-person narration in this page-turning read." --VOYA
Click here for more about THROWING STONES:
*Get a free trading card.
* Read an excerpt from the book.
* Download an educators' guide.
* Fun links for kids.

A new girl in a new town, Jo desperately wants to make friends. But how far will she go to preserve a friendship that was never meant to be?

Winner of the Josette Frank Award for Fiction.

A SMITHSONIAN MAGAZINE Best Children's Book of the Year.

An IRA-CBC Notable Book.


Click here for more about JERICHO WALLS:
* Read an excerpt from the book.
* Download an educators' guide.
* Make Ms. Abilene's Sweet Tea.
AUTHOR INFORMATION

I was born in New Castle, Indiana, and, except for a brief two-year stint in Gainesville, Florida, spent all of my growing up years in Columbus and then Richmond, Indiana. I went to college at Indiana University in Bloomington, graduating with a B.A. in journalism and psychology and then with a M.S. in counseling. Spending these formative years in Indiana nurtured a love of basketball, which ultimately led me to write a book about the subject -- THROWING STONES.

In fifth grade I began writing and performing puppet shows, primarily as a way to get out of going to Bible class at my Baptist elementary school. That was when I decided that I wanted to be a writer. I read prodigiously as a child and wrote my first book in the summer between my fifth and sixth grade years. It was called A HORSE NAMED MAGIC, about a palomino that won the Kentucky Derby. When I learned that palominos do not race on the thoroughbred circuit, I was crushed, realizing that I could not submit Magic for publication. While I always loved to read and write, I certainly wasn't a child prodigy. I needed a great deal of practice and wrote nine never-to-be-published novels (including Magic) and many, many freelance magazine articles before starting work on my first book -- JERICHO WALLS.

For the last twenty years I have also worked as a licensed professional clinical counselor, in a church, with the Department of Child Services, as an elementary school counselor, and in private practice. I enjoy the opportunity to write and present counseling curriculum. And I especially love when I am able to weave writing in therapy and therapy into writing.

I also work part time as an instructor with The Institute of Children's Literature. Working as a teacher of writing has been the best learning experience. And so many of my students are so talented. I'm looking forward to seeing their stories and books in print.

Several years ago our family moved from Bloomington, IN to Louisville, KY. My sixth grade writing dreams have come full circle now that I'm really in Derby land.